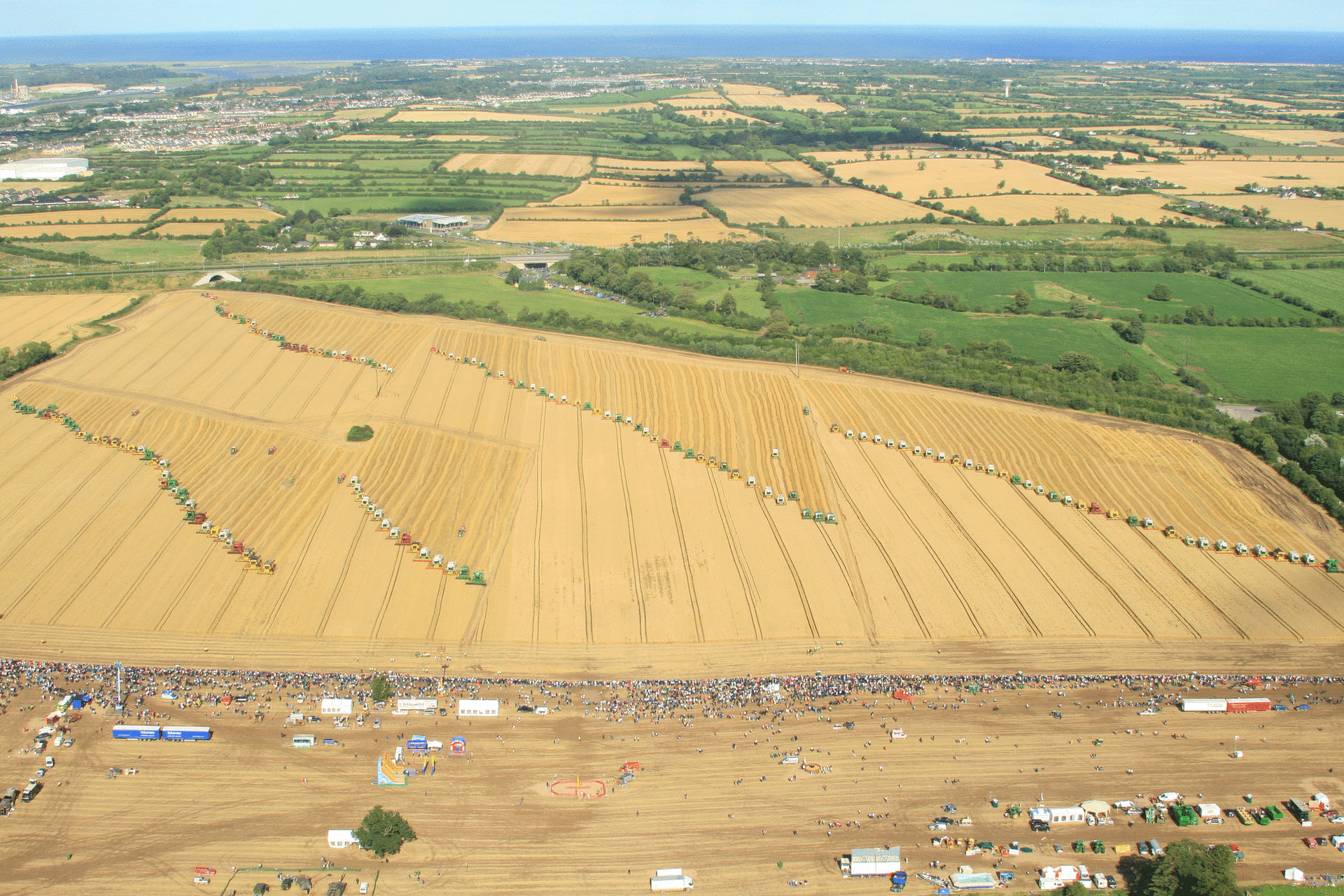 Combines 4 Charity Ltd was formed in 2009 by a group of 10 cereal famers to establish a new Guinness World Record and raise money for charity. Our original aim was to have 100 combines cutting 100 acres however we ended up with 184 combines working simultaneously, attracted 20,000 spectators and raised €300,000 for our chosen charities. However our record was broken in 2010 by the Canadians who had 200 combines working and with Irish pride at stake we reclaimed our record on Saturday July 21st 2012 at Duleek Co. Meath where we had
208 combines working in the same field! In 2010 Combines 4 Charity Ltd raised a further €100,000 for our chosen charities with a Monster Draw where first prize was a John Deere tractor. Also in 2010 we entered into a share farming agreement on 100 acres. We farmed this on a voluntary ​​​basis with the support of other cereal growers, chemical companies, local grain merchants and neighbours. Monies​ raised through farm sales was donated to our chosen charities.
In 2017 we created yet another world record but with forage harvesters this time. We had 104 self propelled forage harvesters working simultaneously in a field near Trim Co Meath and raised over €60,000 for our chosen charities. After no more than seven minutes a crowd of 5500 people witnessed the 100ac of grass that had been lying on the ground now chopped and blown into the trailers – waiting to be tipped in the nearby silage pit.
There were some rarities of harvesters present, including a Mengele Mammut 7800 and its red sibling – the now-famous 'Charity Case' 7400 (Case IH), which was restored for the event. Also two Hesstons and even a Mercedes MB Trac (coupled to a Pottinger harvester) kept up with the pace. The most impressive 'classic' forager had to be a fully-restored New Holland 1895 Crop Cruiser. Of the newer varieties Claas was in the majority; 41 of the machines present bore its livery. Next up was John Deere, followed by New Holland.
To see photos of our world record attempts and proceeds presentation visit our Gallery Page.
​
An official DVD of our Combine Harvester world record attempt is available from the Combines 4 Charity office. Please send a cheque for €15 per DVD required with the name and address of the intended recipient to Combines 4 Charity, Staleen, Donore, Co. Louth​.
​
Currently our 3 main chosen charities are
​
- Barnardos which is an independent charity who work with vulnerable children and campaign for the rights of all children
- Gary Kelly Cancer Support Centre, Drogheda, Co. Louth who provide counselling and support for families affected by cancer
- National Rehabilitation Hospital, Dun Laoghaire which is a specialist hospital for spinal injuries
​
Other charities which we support and donate to
​ - Multiple Sclerosis Centre, Trim, Co. Meath who support people affected by MS
- St Vincent De Paul Co. Meath
- The Aspen Counselling Service, Lucan who support people with mental health issues
- APA who provide basic services to empower vulnerable citizens in Africa
- Leinster River Rescue, Trim, Co. Meath
- Darver and Dromiskin Parish, Co. Louth
- Alzheimers Society, Co. Meath
- Irish Wheelchair Society, Co. Meath
- CASA who support people with disabilities
- Childline
- Dyslexia Ireland
- Kaana Charity who provide protection of street children in Kampala, Uganda
- Donore National School - Education Support for families
- SoSad who are increasing awareness of suicide and mental health issues